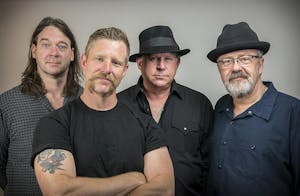 Presented by Sam's Burger Joint & San Antonio Blues Society
The Guy Forsyth Blues Band
$15.00 - $70.00
Sales Ended
Join us for a great night of music with The Guy Forsyth Blues Band and a special set by Guy Forsyth & Jeska Bailey to begin the evening.
NO Seating GUARANTEED. Any Seating Available is on a First Come, First Served Basis. NO REFUNDS all sales final.
All Minors Will Be Charged an Additional $5 At the Door. 17 & Under Admitted with Parent or Guardian Only.
The Guy Forsyth Blues Band
Guy Forsyth cut his teeth in the blues, sneaking into Kansas City Blues clubs before he was old enough to drink… Playing slide guitar and harmonica in both acoustic and electric styles, Forsyth is a musician's musician practically turning anything into an instrument, be it a saw or an odd household item he finds a way to captivate the audience's attention with it. Vocally he is mesmerizing. Forsyth's repertoire incorporates elements of blues and Americana traditions, with trace elements of rock, R&B, folk, jazz and pop having been inspired by the great voices of American roots, Muddy, Wolf, Elmore, Little Walter, Armstrong, Waller, Smith, Watson, Waits, Bell and many more -you can hear Forsyth's eclectic musical base. With Texas tried and true vets Naj Conklin on bass, Mark Hays on drums, George Rarey on lead guitar and the newest addition of Nevada Newman on guitar (everybody sings) this dynamic group come together to create a powerhouse of sound that leaves the audience dancing and their faith in the power of live music restored.
The release of his latest, The Pleaser, was named because of Guy's unyielding need to please everyone even at the risk of his own demise. "To Texas blues and blues rock fans, The Pleaser will appeal!" says Blues Blast Magazine after raving about the guitar solos, Forsyths powerhouse vocals and the dangerous content of which Forsyth writes the and sings the blues.
https://www.facebook.com/guyforsythband
https://www.instagram.com/guyforsythband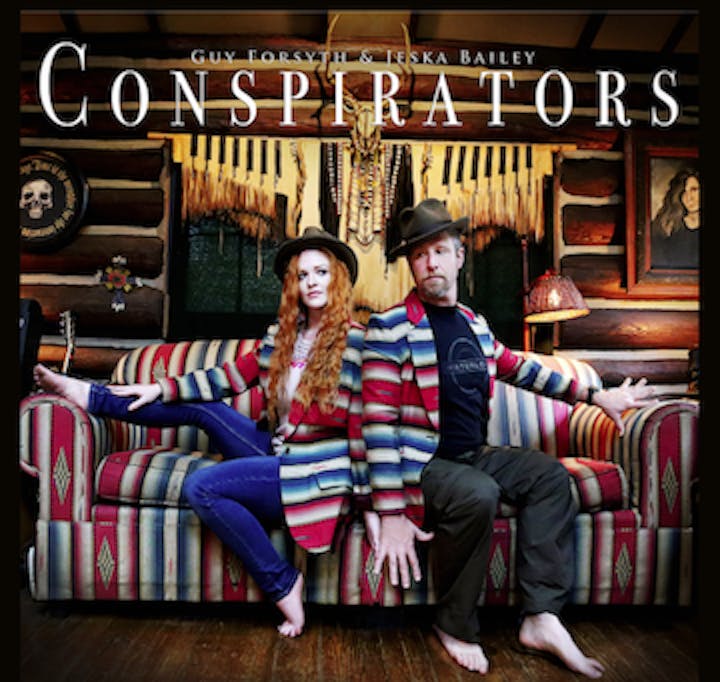 Guy Forsyth & Jeska Bailey

Prior to the album that Guy Forsyth just made with his wife, Jeska Bailey Forsyth, he has been performing internationally and touring since the mid 90s. In fact, Guy was the founding member of The Asylum Street Spankers which was widely acclaimed and launched him into his solo career which spread like wildfire especially in Europe. Having toured across the US and overseas as a full band in many shapes and forms Guy has once again embraced his ability to change his musical approach which is something his audiences have loved about him for years. The appealing guitar, saw, harmonica and ukulele playing are all still there it's just that he has broadened his sound with the femininity and incredible vocal dexterity of Jeska, making his music more intimate and hopefully widening the appeal to a broader audience. The Forsyth's are looking forward to their up coming tour with great anticipation and can't wait to demonstrate their impressive level of showmanship and soul to audiences that have already fallen in love with Guy. Whilst the duo doesn't have a specific genre they wish to be nailed down to you can immediately feel the blues and raw emotion their music is rooted in and everyone leaves their performances concluding that this couple can really rock as well as take you through a musical tour of many different emotions. The elements of roots and americana alongside Guy's fascinating musical synthesis as well as bringing a broad range of musical influences each individual walks away feeling like they personally know the couple.

https://www.facebook.com/guyforsythband

https://www.instagram.com/guyforsythband

Venue Information:
Sam's Burger Joint
330 East Grayson St
San Antonio , TX, 78215