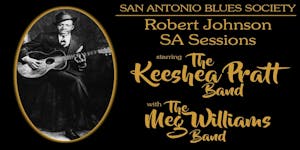 Presented by San Antonio Blues Society
Keeshea Pratt Band
Meg Williams
$10.00 - $50.00
Sales Ended
San Antonio Blues Society presents Robert Johnson SA Sessions starring Keeshea Pratt Band with Meg Williams.
Doors at 7:00 ... Show at 8:00
Ages 18 and up (17 & Under Admitted with Parent or Guardian Only). All Minors Will Be Charged an Additional $5 At the Door.
NO Seating GUARANTEED. Any Seating Available is on a First Come, First Served Basis. NO REFUNDS all sales final.
Pricing:
Early Bird General Admission $10.00 until October 6th — Advance General Admission $15.00 from October 7th to October 31st —- General Admission $18.00 after October 31st
This celebration is an annual SABS November event, paying tribute to one of the founding fathers of blues music. We celebrate the recordings Robert Johnson did here in San Antonio back in 1936 at the historical Sheraton-Gunter Hotel, including "Sweet Home Chicago", "Cross Road Blues", and "Ramblin' on My Mind". Robert Johnson has been inducted into the Rock n Roll Hall of Fame. Twice.
The Events in 1936:
Robert Johnson records for Don Law at The Gunter Hotel in late November, 1936. Don Law is a Producer for the American Record Corporation, the predecessor to Columbia Records. Recordings took place over three days; November 23, 26, and 27. Two rooms were used; rooms 413 and 414. Robert was in one of the rooms with the microphone running over to the next room where Don Law's team was with the recording equipment. The Sheraton-Gunther hotel has a suite designated as the Robert Johnson room. The hotel constructed a beautiful display in the lobby commemorating the recordings. Through the efforts of the San Antoio Blues Society and endorsed by the Robert Johnson Blues Society, the Robert Johnson Historical Marker was placed in the lobby.
The sixteen songs recorded by Robert Johnson at the Gunter Hotel, November 1936:
Kind Hearted Woman Blues, (I Believe I'll) Dust My Broom, Sweet Home Chicago, Rambling on My Mind, When You Got a Good Friend, Come on in My Kitchen, Terraplane Blues, Phonograph Blues, 32-20 Blues, They're Red Hot, Dead Shrimp Blues, Cross Road Blues, Walking Blues, Last Fair Deal Gone Down, Preaching Blues, If I Had Possession Over Judgement Day.
ALSO GOING ON DURING ROBERT JOHNSON S.A. SESSIONS MONTH
Nov. 3 SABS Sunday Afternoon Jam hosted by John Cockerell
Nov. 16 RJ at South Texas Cultrual Center starring Miss Neesie and The TIn Cup Trio @ South Texas Museum of Popular Culture
On-air at KRTU with Corey Cook
On-air at KRTU with Mark Stewart
On-air at KSYM
ALSO GOING ON DURING ROBERT JOHNSON S.A. SESSIONS MONTH
Nov. 2 On-air at KRTU with Kory Cook ... performance by John Cockerell
Nov. 4 SABS Sunday Afternoon Jam hosted by John Cockerell
Nov. 4 On-air at KRTU with Mark Stewart ... possibl guest appearance by Shawn Pittman and/or Jason Moeller
Nov. 10 RJ at South Texas Cultrual Center starring Miss Neesie and The TIn Cup Trio @ South Texas Museum of Popular Culture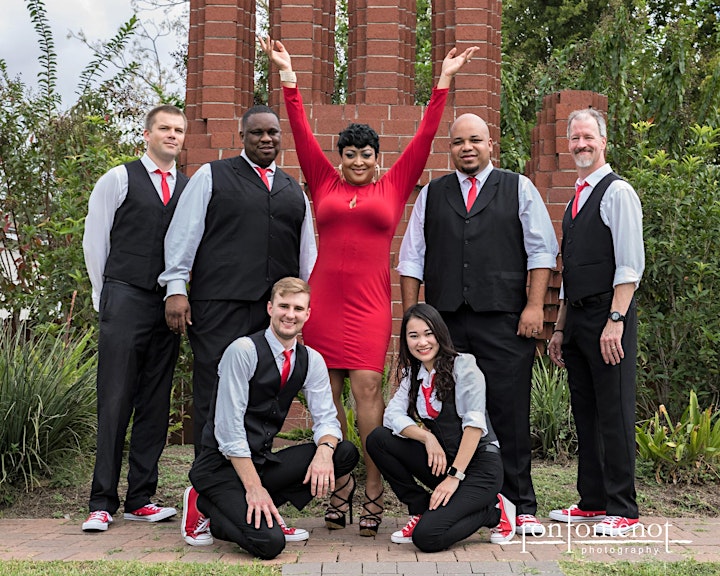 Keeshea Pratt Band
Singing since the age of six, Keeshea Pratt has shared the stage with several notable national figures including bluesman Bobby Rush, Eddie Cotton, opera singer Grace Bumbry, soul singer Musiq Soulchild, and gospel icon the late Reverend James Moore. Pratt has accomplished what few Mississippi based singers before her has ever achieved: The ability to attract fans from all walks of life without ever straying from the intricate roots that nurtured her awarding winning voice in the first place. Pratt's impressive musical range and undeniable charisma changed the landscape of local entertainment by displaying the kind of vocal immediacy and vulnerability possessed by few singers and leaving you wanting more. Draped with amazing style, class, and sophistication, Pratt takes you on a journey through all genres of music. "I always get asked the same question," says Pratt, "What type of music do you sing?" My answer has always been the same… "I sing it all." There has been an elite array of influences with unique sounds and styles that has cultivated Pratt's alluring and spirited presentation. She's an artist that appreciates all genres and refuses to be put in a box, and her connection with her audience allows her to tap into whatever their mood is and render an offering of shear vocal pleasure. Some of Pratt's accomplishments include "The Jackson Free Press Artist of the Week 2011", "The 2012 Female Artist of the Year in the Jackson Music Awards", and a featured artist the 2010 Chicago Blues Festival. Her road to the top of her musical game in Jackson has been filled with the type of conviction that now causes a younger generation to look to her as a musical influence.
The Blues Foundation out of Memphis, TN crowned Keeshea as the Queen of the 2018 International Blues Challenge (IBC) on January 21, 2018 as the 34th annual edition of the blues competition wrapped up at downtown Memphis' Orpheum Theatre with Pratt and her brass-heavy Texas ensemble taking home 1st place in the best band category. The Keeshea Pratt Band, a little over 8 months old, went to Memphis and left a mark that will forever be talked about.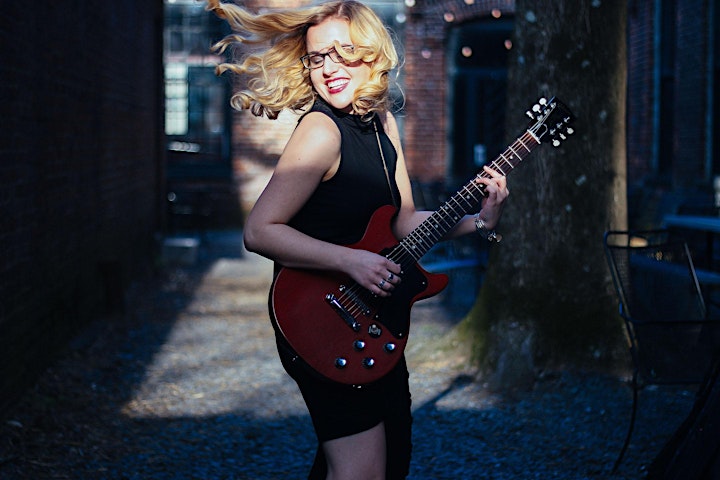 Meg Williams
Nashville-based guitarist, songwriter, and singer, Meg Williams, performs at notable venues across the country with her full band, as a solo/duo act, and as a guitarist for other artists. She competed in the 2019 International Blues Challenge (Memphis, TN), representing the Kentucky Blues Society after winning the Kentucky Blues Challenge. Meg was additionally selected as the house band director for the International Women in Blues Showcase during the IBC's. Shortly after returning to Nashville, after a very eventful week in Memphis for the IBCs, Meg signed with Nola Blue Records and went on to record her full length album, 'Take Me As I Am: The Muscle Shoals Sessions,' at the legendary FAME Studios in Muscle Shoals. Meg's album has since been played on Sirius XM's Bluesville and radio stations world-wide – 'Take Me As I Am' has reached #27 on Top 50 Blues Album Charts & #9 on Top 50 Blues Rock Album Charts (Roots Music Report). Meg's song 'Little Bit of the Devil' reached #2 Top 50 Blues Rock songs & #9 Top Blues Song (Roots Music Report). Earning high respect and feedback internationally, 'Take Me As I Am' won a Bronze Medal for the 2019 Global Music Awards. Meg recently performed at the 2019 Ann Arbor Blues Fest, as a guitarist & bassist for blues legend and festival headliner, Benny Turner (brother & bassist of the late Freddie King). She additionally performed at the 2019 Tall City Blues Fest (Midland, TX) & main-stage at 2018 Venice Blues Festival (Venice, FL). She has also performed at the Tennessee Motorcycle & Music Revival at Loretta Lynn's Ranch and the Smoky Mountain Songwriter's Festival. Meg is set to perform at the inaugural Lone Star Blues and Heritage Festival, joining forces with blues legend Benny Turner again after rave reviews of their last performance. She is also set to perform at the 2019 Island Hopper Songwriter Festival, the 2020 Cincinnati Guitar Festival, and the highly selective 2019 Nashville Guitar Community Showcase. Meg has been interviewed & featured on Blues Radio International during the Blues Music Awards (BMA's) in Memphis, TN with percussionist Kirby Newman, Knoxville's WDVX Blue Plate Special (3x), and most recently, Acme Radio Live (Nashville, TN), on 'Gear Gab' with Eric Dahl. Meg has performed at notable venues nationwide, including: 3rd and Lindsley (Nashville, TN), Bourbon Street Blues and Boogie Bar (Nashville, TN), City Winery (Nashville, TN), The Stanhope House (Stanhope, NJ), Rockwood Music Hall – Stage 2 (NYC), BB's Jazz, Blues and Soups (St. Louis, MO), Knuckleheads Gospel Lounge (Kansas City, MO), Sam's Burger Joint (San Antonio, TX), Lafayette's (Memphis), BB King's Memphis (Memphis, TN), and many, many more.
When Meg is not performing (which is almost never), she enjoys teaching guitar throughout the greater Nashville area (beginner – advanced lessons), graphic design (creating and maintaining all of her own websites, posters, & social media), co-writing with artists in Nashville, supporting other musicians & shows, and watching a lot of crime shows. She can be found constantly booking her own shows, working hard to keep a full calendar year-round. It's a lot of hard work and dedication, but Meg enjoys every aspect of the music business.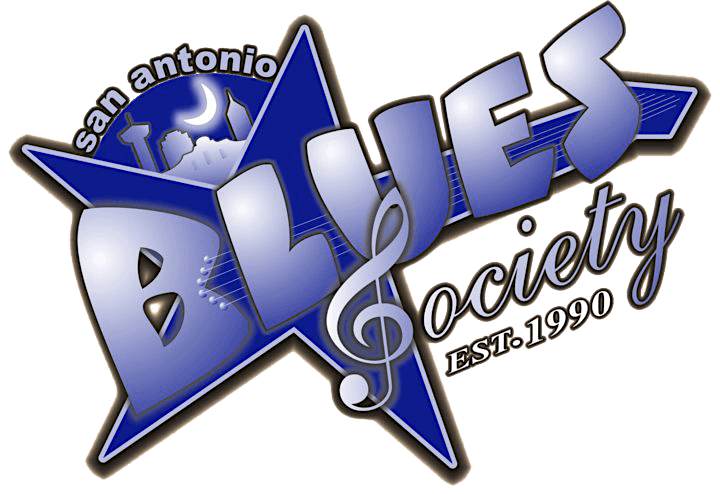 San Antonio Blues Society

The San Antonio Blues Society, Inc. is a Texas not-for-profit 501(3)(c) corporation, founded in October 1990. The Society was established for the purpose of promoting and preserving blues music. It is our mission to ensure the continuation of blues music by offering educational programs within our community, and to preserve locations and artifacts relevant to the history of blues music and its artists. We support blues venues and blues artists through our promotional efforts and participation in blues-related activities and events. As well as hosting jam sessions where local and visiting artists can sit in and play, SABS also produces / co-produces shows showcasing local and international blues artists. We are always striving to encourage our community to appreciate the historical value and the enjoyment of blues music.

Our Continuing Missions in the Community - Sam Baird Scholarship:

This scholarship continues the legacy of noted musician and SABS member Sam Baird, who supported and nurtured the growth of the San Antonio music community for many years. Announced in 2006, this local scholarship fund is awarded to students displaying academic strength and musical ambition. This award is presented annually at the Fiesta Blues Heritage Series and is a very special event involving family, friends, and a very appreciative audience. SABS works in conjunction with Art and Music Directors to announce and promote this opportunity to eligible local students. This is an ongoing endeavor that we put our full effort into working with schools, parents, corporate sponsors, and community leaders to get as many students involved as possible.

Our Continuing Missions in the Community - Blues in the Schools:

Preserving the heritage of blues music in our region is not our only task. We also bring the music to the community via the local school systems. Actual performances at the local schools give our young people the chance to hear the music that is the foundation of what they listen to today. Since 2004 we have performed before student bodies, presenting the music that is part of our national heritage. We always seek student participation and at these performances we have been able to bring up students to jam with the band. While the majority of our BITS presentations are at high schools, we also include elementary schools. You are never to young for The Blues!

Venue Information:
Sam's Burger Joint
330 East Grayson St

San Antonio , TX, 78215