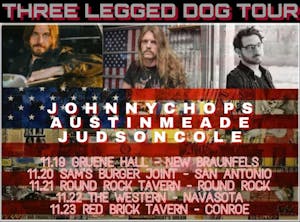 Presented by Sam's Burger Joint
Johnny Chops
Austin Meade
Judson Cole Band
$7.00 - $30.00
Sales Ended
The Three Legged Dog Tour An acoustic songwriter showcase featuring Johnny Chops, Austin Meade and Judson Cole.
Get your tickets today for The Three Legged Dog Tour with Johnny Chops, Austin Meade and Judson Cole.
Doors at 7:30pm Show at 8:30pm
NO Seating GUARANTEED. Any Seating Available is on a First Come, First Served Basis. NO REFUNDS all sales final.
Ages 18 and up - All Minors Will Be Charged an Additional $5 At the Door. 17 & Under Admitted with Parent or Guardian Only.
Tickets for he Three Legged Dog Tour with Johnny Chops, Austin Meade and Judson Cole go fast so get yours today!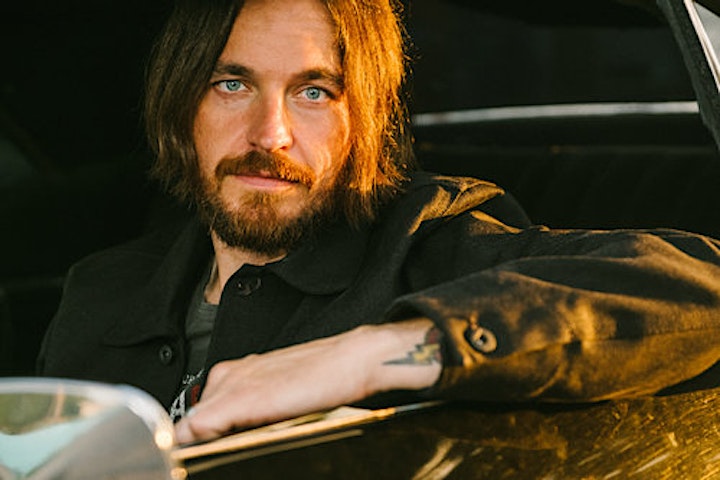 Johnny Chops
When he isn't holding down a solid groove playing bass or writing the occasional Texas Music Chart #1 (Last Last Chance) with the Randy Rogers Band, Johnny Chops is charting his own path through the muddy waters of a soul soaked, roots rock revival. After the 2013 release of his first solo album, Sticks and Stones, he enlisted the sonic expertise of David Abeyta (Guitar, Production -Reckless Kelly) to craft an album of original blues, country, soul and rock that showcases not only his vocal and songwriting abilities, but an all star band as well.
The eponymous "Johnny Chops & The Razors" garnered the attention of TheBoot.com for the debut video, "Believer." The second single and video, "Taking A Chance On Me" features special guests, the Gospel Starz, a family group who have been singing together in churches and venues across the state for almost 40 years. The Glide Magazine premiere praised the song's "bluesy, southern boogie sound...infectious, uplifting chorus."
"Ten Cent Talkers," the third single and video from the album takes a different turn. Written, produced and directed by Johnny, it takes a hilarious stab at the world of TV news and politics, all set to the beat of thumping upright bass, smoking guitar licks and rapid fire lyrics.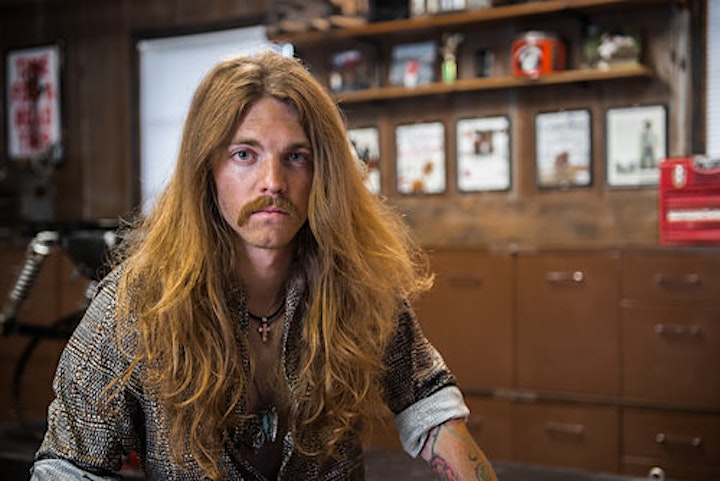 Austin Meade
Inspired by the Rock 'n' Roll Greats and Red Dirt Legends, Austin Meade tastefully blends bluesy guitars and deliberate vocals to deliver a familiar, yet fresh, sound in a 4-piece package. A 2015 Agricultural Business graduate of Texas A&M University, and former drummer, Meade's appeal reaches not only to the co-eds of the next generation, but simultaneously waxes nostalgic for those longing for the ambient guitars of the 70s. Meade's current EP "Heartbreak Coming," features the singles "Born With A Broken Heart" and "Courage To Talk."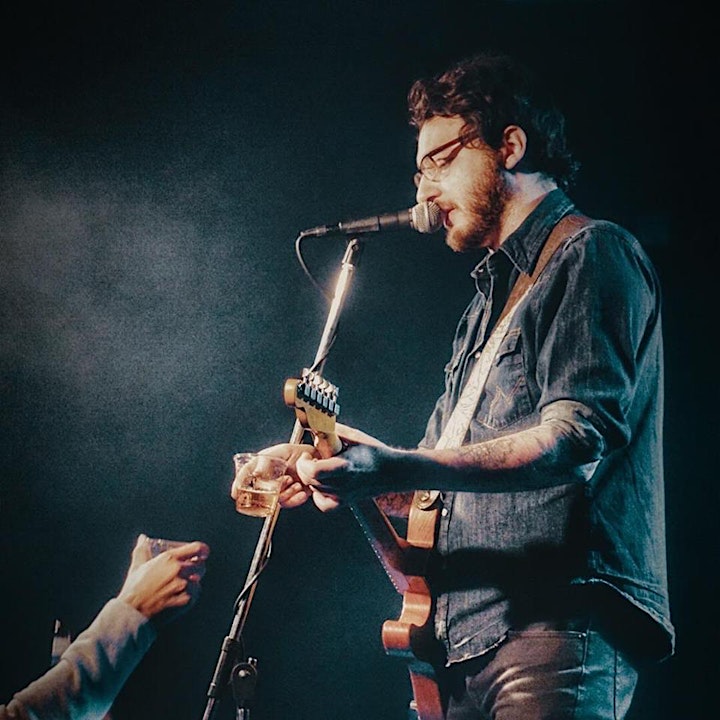 Judson Cole

Since 2015 and the release of their first record Eastern Skies, the Judson Cole Band have devoted their lives to sharing their own experiences through music. From the titular track to the deep cuts of the album, they unabashedly pull back the curtain in an effort to share their own stories of heartbreak and personal growth. The bands' follow up EP The First Three, and their radio single Battles continue to carry them nationwide, cementing their title of "road worthy". The Judson Cole Band have poured everything they have into their craft, staking their claim as a stand-out in the vast vein of Texas music.

Comprised of all original members, their sound is as diverse as each of their backgrounds and is held together by a common thread of friendship, soul, and a love for music.

Venue Information:
Sam's Burger Joint
330 East Grayson St
San Antonio , TX, 78215